Pillow Storage Tanks
Flexible Water Storage Pillow Tanks
Pillow storage tanks feature a wide range of small and large capacities to help meet all your liquid storage needs. Flexible tanks are capable of storing liquids that range anywhere from drinking water, rain water, gray water, fuel to hydrocarbons. These multi-purpose storage tanks have been a flexible alternative for short and long-term stationary liquid storage.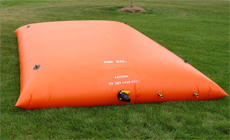 Collapsible Storage Tanks
Collapsible water tanks are designed specifically for the storage of potable water. Built with FDA and NSF 61 approved materials.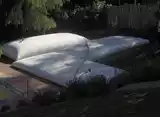 Gray Water Storage Tank
Gray water pillow tanks are designed for water storage that does not involve the need for potable water. Applications include gray water, frac water, spray materials, waste water, production liquid and more.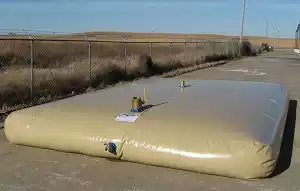 Fuel Storage Tanks
Collapsible fuel tanks are flexible tanks designed specifically for the storage of fuel. They are ideal for emergency relief efforts, rural areas & construction sites.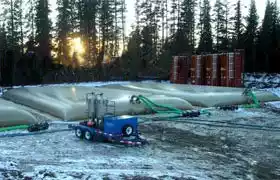 Frac Tanks
Flexible frac tanks are a new alternative to the steel fracking unit. These collapsible storage tanks feature savings in transportation costs, setup time and liquid storage.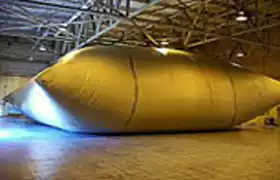 Large Collapsible Storage Tanks
Large flexible tanks are designed for bulk liquid storage of materials such as water, fuel and other liquid substances. They can be built to store up to 210,000 gallons.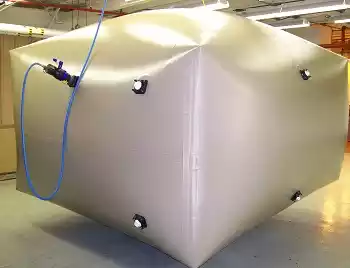 Flexi Cube Water Storage Tanks
The flexi cube collapsible tank is designed for applications that have a limited amount of floor space. Their walls are built higher for increased storage capacity with half the space.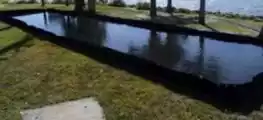 Secondary Containment Tanks
Flexible containment tanks are suggested to have some sort of secondary containment. Other secondary containment are made to have open tops for catching or storing hazardous materials.

Cistern Liners
Cistern liners are the perfect choice for lining existing cisterns that are new, old or in need of slight repair. Liners are custom built to fit your cistern for drinking water or gray water storage.
Collapsible Storage Tank Materials
When using a pillow tank, one of the most commonly asked questions is what type of material is used for the frac tank. Due to their wide range of uses, pillow tanks are actually constructed using several different fabrics depending on the size of your tank, the duration of your storage, the location of your storage, and the type of liquid being stored in the tank. Common fabrics typically include polyurethanes, polymer alloy, and E PCV coated options.
In general, however, pillow tank materials are specifically designed to match the storage requirements of your liquids. This means that if drinking water is being stored inside the tank, fabrics will feature an FDA and NSF 61 approval for safe potable water storage. Similarly, fuel tanks will be equipped for the type of fuel being stored in the tank.
Flexible Tank Applications
These pillow storage tanks have been made in several different capacities to help meet different storage needs. Applications for these tanks have ranged from use in oil fields to residential locations. Some of the most common uses for these tanks have included the following:
Drinking Water Bulk Storage
Bulk Gray Water Storage for Septic Systems
Emergency Relief Efforts
Water and/or Fuel for Mining Operations
Pool water storage during repairs
Sizing & Specifications for Pillow Storage Tanks
For sizing and specifications on some of these tanks, please check out the following links:
Sizing for collapsible tanks can range from as small as having a capacity of 25 gallons to as large as 210,000 gallons. Dimensions of these tanks have a large variety and are extremely customizable.
You can also find additional information on these products by visiting our Water Storage Bladders page (listing tanks designed specifically for the storage of water) or by checking out our Pillow Storage Tanks page which displays additional uses for these tanks.
Whether you are looking for a pillow water tank, a collapsible water tank, a fuel bladder, or a large water storage tank, these collapsible units can provide economical and reliable storage for your liquids. View our Search Results page for an additional method to find the right tank for your needs.
Customer questions:
Questions? We can help! Call our team at 1-863-261-8388 or fill out our quote
request form to discuss your requirements.