Cistern Tank Liners
Flexible Fabric Cistern Liners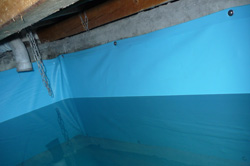 Built as a flexible solution for rainwater storage and collection, cistern liners are made from flexible fabrics to fit or line existing cistern units. Built specifically to match the requirements and size of your existing tank, cistern liners can be easily attached to cistern tanks to form an impermeable inner wall. This will work to contain water and prevent leaks from seeping out of small cracks or areas on your cistern storage tanks.
How Do I Know What Size Cistern Liner I Need?
To size and price the best cistern liner for your existing unit, we typically ask customers to provide us with some additional information regarding their tank construction and storage needs. Information needed includes:
Size and Shape of Your Cistern
(example: Circular, dimensions 6' diameter and 10' high)


Liquid Requirements
(Do you need the the liner to be FDA and NSF 61 approved for drinking water?)


Cistern Material (example: concrete, steel, etc.)


Piping, Plumbing, or Hardware in the Location
(Any equipment you will need the liner to work around?)
After providing us with this information, we will work to find the best sizing option and fabric material to meet the storage requirements of your location. This may include extra fabric to go over the side of the cistern or other options to help with securing the liner to the cistern tank.
How Do I Secure the Liner to the Cistern?
When looking for cistern tank liners, many customers are additionally interested in learning how to attach these liners to their tanks. Some of the most common methods used for cistern liner attachment includes the following options:
Banding Along the Top of the Tank (either plastic or steel)
Secure Banding to the Tank and the Liner through Gaskets
Customers may add a geotextile fabric material between the tank and the liner. This helps to further retain water and protect the liner against any abrasion during use.
Need a cistern liner? Call Collapsible Pillow Tank at 1-863-261-8388 or fill out our quote request form.

Where Can Cistern Liners Be Used?
While commonly used as a containment liner for old, leaking, or existing cisterns, these tank liners can also be equipped to fit almost any tank size or containment requirement. Built using the same flexible fabrics that are used on our collapsible pillow tanks, these liners can be equipped for drinking water, production water, frac water, chemicals and even fuel. If you need a liner to fit your cistern tank, we have an option that can meet your needs.
For use in your application, please let us know the type of liquid you will be storing in the cistern tank and any additional requirements for use in your application.
Need help? Call Collapsible Pillow Tank at 1-863-261-8388 or fill out our quote request form.