Collapsible Pillow Tanks
Pillow Tanks for Water and Fuel Storage
The collapsible pillow tank is one of the most versatile and flexible storage options available for liquids ranging from potable water to fuel. Constructed from various high-quality fabrics, these tanks have been built to meet the needs and site requirements of customers around the world. Please feel free to browse through our selection of temporary storage tanks listed below to find the perfect system for your location.
What is the Collapsible Pillow Tank?
The pillow tank, also referred to as a flexible tank, collapsible tank or temporary water storage tank, is a flexible storage container that has been used for both small and bulk liquid storage applications. Collapsible pillow tanks are fabricated using a variety of materials designed to meet your individual storage application. Each fabric option typically comes in a medium grade, commercial grade, or industrial grade fabric, depending on your location's conditions and the liquid you are intending to store. These fabrics correspond to different levels of material thickness, equipping tanks for increasing storage or location demands.
What Advantages Can a Collapsible Tank Offer?
When compared to other tank options, such as plastic, fiberglass, or steel, the collapsible tank offers several unique advantages:
Increased Transportation Savings (ships empty to your location)
Folds up or Rolls when Empty
Compatible with a Wide Range of Liquids
Used in Various Climates
Fast Deployment
Quick Installation
Available with Low Profiles
Easy Transportation when Empty
Where Has a Collapsible Tank Been Used?
The collapsible pillow tank is an extremely versatile and diverse tank that has been used in several different locations and applications. These tanks have been known to store various liquids including drinking water, fracking fluids, process water, construction site water, dust suppression water, rainwater, and even fuel. Some locations where this tank has been used include:
Oil Fields
Mining Locations
Military Operations
Residential Areas
Industrial Facilities
Construction Sites
Rural Areas
Schools
Hydraulic Fracturing Locations
Areas hit by Natural Disasters
Collapsible Tank Options
Each collapsible tank located on this site is designed as a flexible, collapsible structure. Collapsible tanks are offered as both stationary and portable units to meet varying storage requirements.
Stationary Pillow Tanks: A large majority of the collapsible tanks offered here are designed for stationary storage of fuel, water, and various other site liquids. Tanks can be moved when empty, but are not equipped to handle mobility while filled with liquids.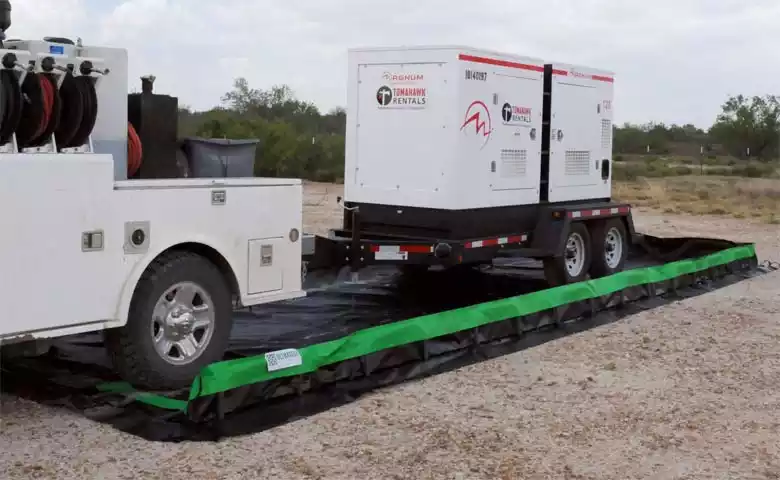 Secondary Containment: Regardless of your storage unit or site location, many regulations now require strict secondary containment for tanks and other storage materials. This section contains berms and liners to help protect harmful liquids from reaching the ground.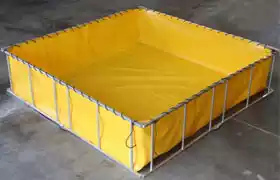 Mobile Tanks: Our portable water tanks are a great option for emergency water storage, fast response applications, and other jobs that require a tank that is easy to move and setup. These tanks are often used for fire fighting, spill response and other quick containment needs.
Questions about temporary water tanks? We can help! Call Collapsible Pillow Tank at 1-863-261-8388 or fill out our quote request form to discuss your requirements.