Pick-up Truck Tanks
Plastic Pickup Truck Tanks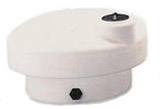 Plastic Pickup Truck Tanks are small capacity tanks that are used for liquid transportation in the back of pickup trucks, ATV's and other small vans or trailers. Their low profile helps them to store required amounts of water without limiting or blocking your view. All tanks are made from a singular piece of polyethylene to help with easy transportation around your facility or location.
For Sizing and Specifications, See Pickup Truck Tank Specifications
The pick up truck tank is one the easiest tanks to use for transportation as it keeps a low profile for easy transportation around your location. This can be especially useful during emergency situations such as natural disasters or fires, as the tank can be quickly filled with water and sent out in response. These tanks typically feature sizes of anywhere from 210 to 425 gallons.
Specifications
Pickup Truck Specifications
Polyethylene Exterior
Resins Complies with FDA Requirements
Low Profile
Fits in Pickup Trucks Mini and Full Size
Capacity (gal)

Size in Inches
(Dia x Height)

210
60/51 x 28
325
62 x 32
425
65 x 37
See How The Pick up Truck Tank has been Used:
In addition to the plastic pickup truck tank shown here, we also offer several smaller plastic tanks for tranpsortation. These tanks have been used to transport all kinds of water including drinking water, grey water, and various other types of liquids. This has been used around agricultural locations and other facilities to help with washing and water. Some common applications for these tanks including different transportation tank options include the following:

Emergency Water Transportation: The collapsible pick up truck tank has a strong and flexible design that has equipped it for use in emergency transportation applications. These mini pillow tanks can be easily placed in the back of vehicles to bring potable water to disaster-struck locations.
Potable Water Storage and Use: These small capacity pickup truck pillow tanks easily fit in vehicles such as pickup trucks, small vans, and RV's. This can be an easy and economical way to bring drinking water with you during camping trips or for use in rural locations.

Fertilizers and Pesticides: Made from the same resilient materials as some of our larger pillow tanks, these units can be well equipped to handle chemical substances such as fertilizers, pesticides, and other agricultural products. This is an economical and fast way to bring fertilizers to their needed location.
Looking for a different type of transportation vehicle? Check out our Water Trailers. Sizes are available anywhere from 100 to 1600 gallons.