Rainwater Collection Tanks
Flexible Pillow Tanks for Rainwater Collection
Question: Hello, I am in need of pillow rainwater collection tanks. I am planning a rainwater collection system for the upcoming spring/summer. I was hoping these tanks could be used to supply my watering needs, such as my surrounding trees and gardens. My problem is finding a tank that can be used in both hot and cold temperatures. Ideally I would need something that could handle -20 F to 110 F.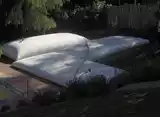 I was also wondering about the size. I am trying to guess the right capacity and I'm thinking maybe around 500 to 1,000 gallons? Would tanks be available in this size?
Answer: Collapsible pillow tanks are an excellent choice for gray water/rainwater collection systems. These tanks can be made in any capacity from 1 to 210,000 gallons and often feature a low profile for convenient storage around your home or facility. In addition to size, there are a couple of different reasons why this tank might be able to work well for the situation you have described.
Pillow Tank Fabrics
Fabrics used on these pillow tanks are extremely versatile and are often implemented in extreme temperature ranges. Tank fabrics have been rated to handle temperatures between:
When used for rainwater, tank fabrics also have the option of featuring an inner lining that is FDA approved for potable water. This helps equip the tank for the potential of inside liquids being used for drinking water.
Rainwater Tank Sizing
The flexible Storage Tank can easily be constructed in sizes anywhere from 1 to 210,000 gallons, including the specific capacities you have mentioned of either 500 or 1,000 gallons.
If you are looking for a way to calculate the amount of water required for your home, please feel free to check out the Water Consumption Calculator. This online tool helps customers figure out the required storage to supply various aspects of their home.
Listed sizes on our site include:
500 gallons: 8' L x 6' W x 1.5' H
800 gallons: 8' L x 8' W x 1.5' H
1,100 gallons: 9' L x 8' W x 2' H
View more Collapsible Tank Sizing Options
Storage and Placement
Pillow rainwater collection tanks have been used in a wide range of locations and are often implemented for their economical exterior and various storage options. Locations for these tanks include:
Backyards
Open Areas
Under Decks
Under Porches
Basements
Crawl Spaces