Containment Berms
Mini Spill Containment Berms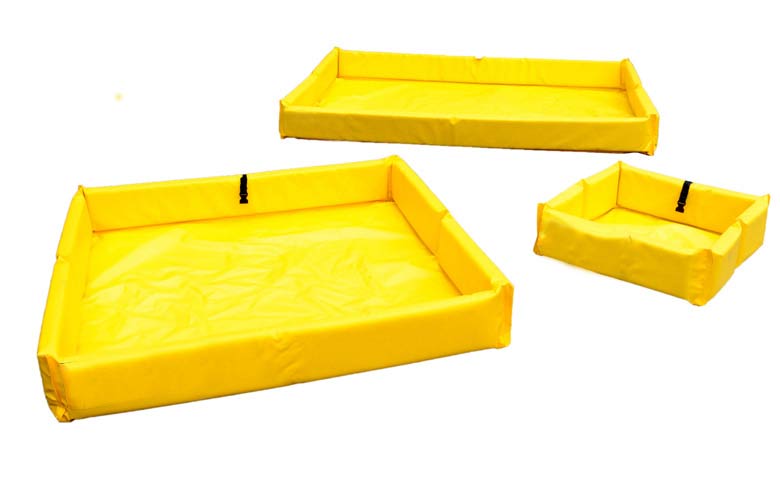 These Mini Containment Berms are commonly used for temporary storage, drum containment, spill response and leak collection. Its small size makes it easy to store and perfect for applications that require secondary spill containment solutions within a small area. This berm is made to be extremely flexible and sturdy. Its design makes it able to unroll itself into place when opened. Just a one step set up. Being made primary out a PVC material allows this small berm to open and roll back up multiple times, with no damage. Fiberglass rods are installed in its walls to keep them in place as well as creating the easy to deploy benefit.
Questions? We can help! Call our team at 1-863-261-8388 or fill out our quote request form to discuss your requirements.

Watch a Mini Spill Containment Berm Video!
Part Number
Dimensions ft. (m)
Containment Capacity gal. (L)
Weight lbs. (kg)
8850
2 x 2 x .5 (.6 x .6 x .2)
15 (56.8)
3.00 (1.4)
8852
4 x 4 x .5 (1.2 x 1.2 x .2)
60 (227.1)
7.00 (3.2)
8854
6 x 4 x .5 (1.8 x 1.2 x .2)
75 (283.9)
9.00 (4.1)

Materials: Heavy-duty 18 oz. PVC

Custom sizes are available. The calculations above are based on a berm sitting on a flat, level surface, with no materials being stored.
Liner Compatibility Options
All of the liners used for our berms are designed to be highly compatible with various liquids including oil, hydrocarbons, fuel, chemicals, frac fluids, production water, process fluids, and various types of water.
Hydrocarbons/Oil
Chemicals
Process/Production Water
Water Containment
For containment solutions, berms are equipped to handle a short contact time with each of these liquids. If you are looking for something that can handle extended contact or be used for liquid storage, please check with our sales team to ensure these liquids are able to handle your intended storage material.
Questions? We can help! Call our team at 1-863-261-8388 or fill out our quote request form to discuss your requirements.

How the Small Berm Has Been Used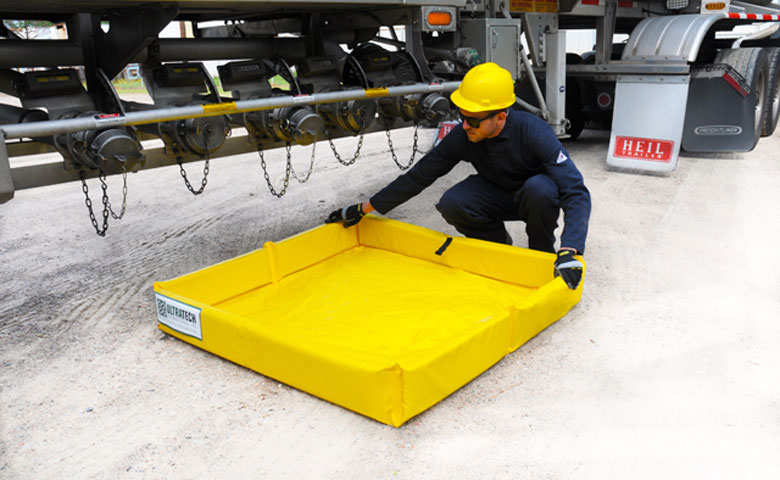 Small Machinery, Small Tanks, Drum Containment: The small berm is made to be the perfect size to provide secondary containment for small equipment. Larger berms are not always necessary when an application only requires one drum containment or a small tank for home use. The smaller berm can be made specifically for the type of equipment being used.
Spill Response: Being made not only a small berm but a flexible one, the mini berm is very easy and fast to pull out and set up as soon as a spill or leak it noticed. Perfect for these emergency situations. Depending on which berm is at hand, they can also hold up to 62 gallons. The berm can also fit into a small areas to collect leaks in those hard to reach places.

Temporary Parts Placement: Like the Spill trays, the mini berm can be use to store parts and tools. The berm can keep items inside it with no risk of them rolling away. The mini berm is also resistant to harsh chemicals so if parts or tools exposed to them, the berm can keep them safely in one spot.
Similar to our flexible tanks, the small spill containment berms are a highly flexible product that can be built in many different designs, styles and models. This is the smallest sized model. Some of our larger designs include berms with aluminum angle walls, foam walls and even a combination of the two. For more information, check out all of our The Spill Containment Berm Products.
Questions? We can help! Call our team at 1-863-261-8388 or fill out our quote request form to discuss your requirements.


Interested in Storage for Drinking Water, Grey Water, or Fuel? Check out our Collapsible Pillow Tanks.