Drinking Water Bladder Tank Cleaning Information
Pillow Tank Cleaning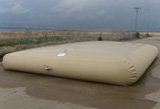 Question: I interested in learning about the collapsible pillow tank cleaning process. I am looking at your 250 to 500 gallon bladder tanks and have questions about cleaning after use. I live in an area that is hot, which I suspect is a great place for mold and mildew to grow. Is there anything I can use to clean out this tank? Will the tank be clean when it arrives? Can it store drinking water?
Answer: When using a Collapsible Water Tank, there are a couple of different options you could consider to safely clean out this tank. The first would be to use a soft chlorine sanitizing agent. It is typically recommended that this agent is no more than 5% solution to ensure that there is no damage to the tank during this process. An alternative to this would be to use a an industry approved sterilizing agent. To find an industry approved material, the best way would be to contact a company specializing in this type of liquid.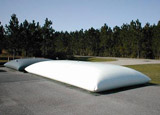 If you will be using this tank to store drinking water, the inner lining of your tank will be FDA and NSF 61 approved. This certifies the materials are compatible with storing potable water and will not harm the water stored within the tank.
When these tanks arrive at your location, they will be clean though not necessarily sanitized. It is not necessary to clean out these tanks before use, but it can be done with the chlorine or industry approved agent from above.
The Collapsible Pillow Tank is constructed from a variety of different fabrics to allow it to be stored with a wide range of liquid materials, including safely storing drinking water. Tanks will be built with the fabric option that is best equipped to handle the liquid you need to store. Some common liquids stored within this tank include:
Drinking Water
Rain Water
Process Liquids
Grey Water
Fuel
Frac Fluids
The collapsible tank has been used in multiple storage applications and industries around the world. Its capacities can range anywhere from 1 to 250,000 gallons.
View the complete selection of collapsible tanks, please check out the Pillow Storage Tank Main Page.
Questions? We can help! Call our team at 1-863-261-8388 or fill out our quote request form to discuss your requirements.