Bladder Water Tanks
Grey Water Storage Tanks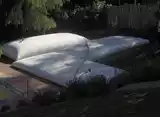 These Collapsible Bladder Water Tanks are designed for fixed storage of nonpotable water applications, such as water storage requirements for hydraulic fracturing, mining, construction sites, and more. The tank's ability to store large quantities of grey water has made them a great option for oil field operations, firefighting efforts, rainwater collection, and wastewater supply. If you are looking for a drinking water storage tank, please check out our Collapsible Water Tanks with FDA approved material construction.
Questions? We can help! Call our team at 1-863-261-8388 or fill out our quote request form to discuss your requirements.

Fabric Options
Medium Grade Fabric


Commercial Grade Fabric


Industrial Grade Fabric



Short Term Grey Water Storage
Economical Construction
Flexible Fabric Material
Typically uses a 22 oz. Material
Recommended Contact Time:
Up to 1 year

Commercial Storage
Standard Area Conditions
Medium Fabric Thickness
Typically uses a 30 oz. Material
Recommended Contact Time:
3 to 5 years

Long Term Water Storage
Thickest, Most Rigid Material
Demanding Conditions
Typically uses a 33 oz. Material
Recommended Contact Time:
Up to 7 years
Technical Specifications
Contact Times
Pillow tanks designed for nonpotable water have a contact time ranging between 1 to 7 years. A more accurate estimate on the contact time depends on the material used, weather conditions, type of fuel contents, and care of the tank.
Fittings
Standard Bulkhead Fittings 3/4"-2" (4"-6" Available Upon Request)
Camlock or Threaded Fittings for Hoses
Made of Aluminum, Stainless Steel, and Polypropylene
Ball Valves, Pressure Relief Vent with Flame Arrestors: Made to Specifications
Grey Water Tank Information
When considering nonpotable pillow tanks for your home, site, industrial facility, or even military location, a collapsible pillow tank can provide strength and flexibility. Tanks are built in sizes ranging from 25 to 250,000 gallons.
During oil and mining operations, companies regularly require a large supply of brine or grey water to help push out oil or minerals from rocks. Having large water pillow tanks saves in transportation costs and allows companies to start their process faster.
Benefits
Custom Sizing, Fittings, Material Available
Easily Transported when Empty
Low Profile
Quick Setup Times
Bulk Storage Capabilities
Economically Better then Most Hard Tanks
Applications
Rainwater Collection
Sprinklers and Wastewater System Supply
Water Supply for Construction Sites
Dust Suppression
Various Washing and Cleaning Applications
Need to store a liquid such as drinking water or fuel? Check out the full capabilities of these storage bladder water tanks on our Pillow Tank Product Overview Page.