Flexible Frame Storage Tank
Folding Frame Water Storage Tank
The Flexible Frame Storage Tank is an open top unit used in applications ranging anywhere from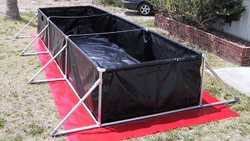 emergency water storage to decontamination efforts. Often praised for its high resistance materials and portable exterior, these tanks are the perfect choice for applications that require quick response, such as decontamination efforts or fire fighting water supply.
Technical Specifications

Small Frame Decon Tanks

Length (ft)
Width (ft)
Height (ft)
3
3
1
4
4
1
4
8
1
Large Frame Storage Tanks
Capacity
Length
Width
Height
500 gallons
5'8"
5'8"
29"
750 gallons
7'
7'
29"
1000 gallons
8'3"
8'3"
29"
1500 gallons
10'3"
10'3"
29"
2100 gallons
11'3"
11'3"
29"
2500 gallons
12'3"
12'3"
29"
3000 gallons
13'3"
13'3"
29"
3500 gallons
14'3"
14'3"
29"
4000 gallons
15'3"
15'3"
29"
5000 gallons
17'3"
17'3"
29"
Tank Liner Compatibility
In order to be successfully implemented in various spill responseand liquid storage applications, frame tanks are made from a variety of different liners, each with a different compatibility. Some of the most common liners are made from PVC, along with XR-5, Elvaloy, or an equivalent material with additional options such as polyurethane also available as needed. These ranging compatibilities has allowed the tank to be implemented in multiple applications including the following:
HAZMAT Spill Liquids
Oil Spill Liquids
Chemicals
Fuel
Hydrocarbons
Frac Water
Process/Production/Waste Water
Anytime you are looking to use one of our spill containment tanks, please be sure to let us knowthe type of liquid you will be storing in the tank as well as the intended contact time for that liquid. This allows us to make sure that fabric used for your tank is equipped for the type of storage required for your project.


Frame Storage Tank Applications
Quick Spill Response/Emergency Applications: One of the most common applications for the foldingframe storage tank is use in emergency or quick response applications, such as spill response or fire fighting efforts. Available in both small and bulk capacities, these frame tanks have been instrumental in helping store large quantities of water for fire fighting in rural or remote locations.


Decon Efforts: Due to their rigid outer frames and open top style, these tanks are also a common choice for decon efforts, such as oil spill cleanup, HAZMAT response and more. Tanks can be made in large capacities for bulk spill response or in small styles for use with decon showers.


Tank Containment: Folding frame storage tanks are also a great choice for standard tank or drum containment. Units can be made for single or multiple tank storage options.
Additional Secondary Containment Options
In need of vehicle or bulk spill containment? Check out our Spill Containment Berms.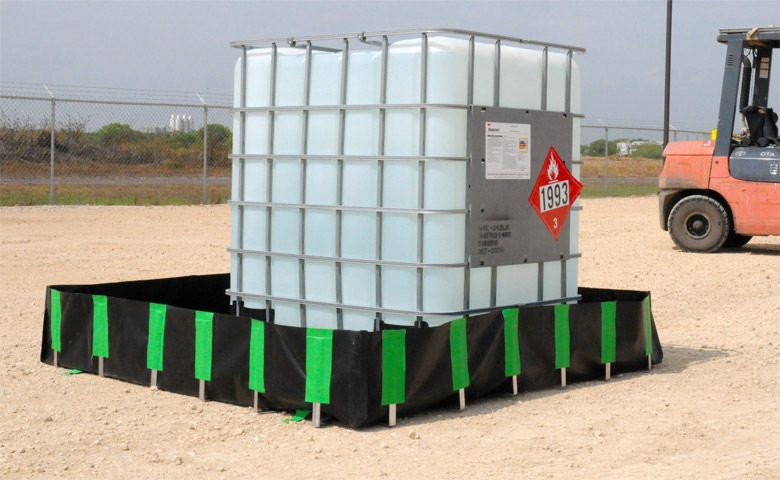 These flexible berms are constructed in several different styles and sizes including drive through options and bulk storage requirements.
Questions? We can help! Call our team at 1-863-261-8388 or fill out our quote request form to discuss your requirements.