Flexible Frac Tanks
Fracking Liquid Storage Tanks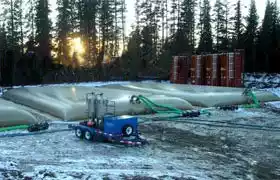 Flexible Frac Tanks create a unique alternative to standard frac water storage. Built from dependable pillow tank materials, these units provide you with large capacity temporary and long-term liquid storage at reduced freight and transportation costs. Many companies have turned to this flexible option as a new way to reduce costs during operations.

Questions? We can help! Call our team at 1-863-261-8388 or fill out our quote request form to discuss your requirements.
Product Types
Commercial Grade Fabric


Industrial Grade Fabric



High Strength Storage
Meets Typical Site Conditions
Medium Fabric Thickness
Typically uses a 30 oz. Material
Recommended Contact Time:
3 to 5 years

Toughest Fabric for Frac Storage
Thickest, Most Rigid Material
Great for Changing or Demanding Temperatures
Typically uses a 33 oz. Material
Recommended Contact Time:
Up to 7 years
Storage Frac Tanks Sizes
| Capacity | Length | Width | Height |
| --- | --- | --- | --- |
| 10,000 gal. (37,854 L) | 21' (6.4 m) | 23' (7 m) | 3' (0.9 m) |
| 20,000 gal. (75,000 L) | 33' (10.1 m) | 25' (7.6 m) | 3.5' (1.07 m) |
| 50,000 gal. (200,000 L) | 42' (12.8 m) | 43' (13.1 m) | 4' (1.2 m) |
| 70,000 gal. (250,000 L) | 54" (1.37 m) | 42' (12.8 m) | 4' (1.2 m) |
| 106,000 gal. (401,254 L) | 88' (26.8 m) | 35' (10.7 m) | 5.5' (1.7 m) |
| 210,000 gal. (795,000 L) | 75' (22.8 m) | 73' (22.25 m) | 6' (1.8 m) |
*Additional and Custom Sizes Available
Frac Tank Specifications
Contact Times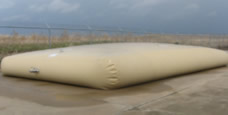 Shown in the beginning of the page, the contact time for each of these tanks varies depending on what specific fabric you have chosen. It should be noted, however, that the contact time for a tank is rated at the moment where the fabric on the tank MAY start to change. This has no bearing on the lifespan of your tank.
Outdoor Storage
When using this fracking tank in an outdoor storage location, we recommend that the ground for these tanks is level and free from any sharp objects. Berms and Liners are usually advised for secondary containment of materials. Standard fittings come in sizes of 3/4" through 2". Other fittings (4" through 6") available. Fitting variety includes threaded fittings for hoses, ball valves, pressure relief vents, and caps.
Frac Tank Information
One of the main benefits for this type of frac tank is its collapsible pillow tank design. Like a majority of our pillow tanks, these fracking units can be shipped to your location empty in shipping boxes or containers. These empty tanks can be folded, rolled or stacked to create large savings in shipping and transportation costs. Many customers choose to ship multiple frac tanks in the same container.
Once tanks have arrived to your site, they can be quickly installed on your location. As opposed to a heavy steel unit, the collapsible tank is lighter in weight, making it easier to move around your site. Multiple fittings are available for customized storage and support.
The flexible frac tank has been manufactured specifically for stationary liquid storage during oil field fracking operations. When compared to the standard steel unit, these flexible tanks provide larger capacities, reduced costs, and lower profiles for economical frac water storage.
For larger jobs, multiple tanks set up in a tank farming structure can be more benficial then one larger tank. When using these tanks, it is typically recommended that some form of secondary containment liner or berm be set up on your site for additional tank protection and secondary containment or your product.
Due to their flexible structure and high resistances, these pillow tanks for fracking can also be used in mineral mining jobs as storage for water, fuel, or other substances.