Pillow Tanks for Hydraulic Fracturing
Flexible Frac Fluid Storage Tanks
Question: I am interested in a large pillow tank for fracking fluids. What is the largest tank you have that could be used to contain these types of fracking liquids? Do you lease these tanks?
Answer: When used for hydraulic fracturing, the Pillow Frac Tank is often built in larger capacities that can range up to several thousands of gallons. Typically, these frac tanks are created in capacities up to 210,000 gallons. Larger tanks up to 250,000 gallons have been made, but would require increased support in order to maintain the amount of weight the tank would have to hold.
All of the tanks located on our site are for purchase only.
Frac Tank Construction
The construction of a collapsible frac tank typically includes higher strength fabrics, such as a 30 oz. or 33 oz. fabric material. These high strength fabrics are used for several reasons including:
Demanding Outdoor Conditions (high or low temperatures)
Increased Storage Strength (protects inner liquids)
Weight Demand (Bulk quantities require tanks to hold an increased amount of weight. Thicker fabrics help to successfully handle the weight from this amount of liquid)
In general, all fabrics used for these tanks will include materials equipped to handle fracking materials and/or other materials that you may need to store liquids on your site. An MSDS may be required in order to ensure that tanks materials used will be compatible with your product.
Flexible Frac Tank Benefits
In general, flexible frac tanks offer many different benefits during their storage including the following:
Increased Storage Capacities
Bulk Storage in a Single Tank
Reliable Fabric Options
Reduced Shipping and Transportation Costs
High Temperature Range (typically from -58 F to 180 F)

In addition to storing fracking fluids, these tanks may also be used for storage of other items required during hydraulic fracturing including the storage of water and fuel.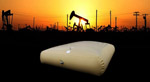 If you are considering a large pillow tank for fracking fluids, you might also consider using secondary containment to help successfully contain your fluids. Secondary containment options may include ground cloths and containment berms.
Learn more about Frac Storage Tanks
Our friendly staff is here to help you get the exact product you need!.

or Contact us for additional information.