Secondary Containment Tanks
Secondary Spill Containment Tanks and Berms
Secondary Containment tanks and berms are for control of spills from products. Open top tanks are often designed in an onion style for quick placement under spills as they occur. Berms allow items to be stored directly on them as a precaution that they may leak or spill. A closed collapsible pillow tank can be of use for draining liquids collected in a secondary containment product without having to move it. In some products, a bladder is attached for extra capacity and easy disposal on contents. Below is a brief description of the advantages for each type of product, along with a link for more information on the product.
Product Types
Onion Tank

Ultra Containment Berms:
Aluminum Angle Foam wall Drive through


Self-Rising
Open Top for Easy Filling
Used for Decon Pool
High or Low Side Models
Lies Flat when Empty
Foam Collar

Decontamination Pools
Compatible with Several Liquids
Tank, Leak, Spill Containment
Custom Sizing
Low Profiles
Long Term Storage

Frame Tank

Collapsible Tank


Self-Rising
Easily Unfold
Fast Response Situations
Decontamination
Tank or Drum Containment
Compatible with Several Liquids

Flexible Designs
Wide Range of Storage Capacities
Compatible with Several Liquids
UV Resistant
Stored in Hot and Cold Temperatures
Low and High Profiles
With multiple fabrics and tank materials, these containment tanks and berms are some of the most versatile storage or response units available. Their flexible designs help the tank fit in small areas under leaking pipes, machinery, and other equipment. Since these tanks and berms are typically lighter in weight, they are easier to move when unexpected leaks or spills occur. For additional containment options, please check out our Secondary Spill Containment section.
See How The Secondary Containment Tank Has Been Used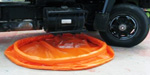 Containment Under Tanks: Available with materials that contain a high resistance to outdoor conditions, hydrocarbons, and other contaminated materials, the open top containment tanks have a low profile for placement under large pipes, machines, or even vehicles. Tanks can be built with thicker walls for reliable containment.


Storage: Some of the pillow tanks are also used as a temporary storage tank for oil spill products, grey water, or even chemical storage. These storage tanks keep a low profile and can hold as much as 210,000 gallons. Secondary Containment Berms and Liners are recommended for added containment.


Decontamination: Onion tanks are also a great choice for decontamination of booms, suits, skimmers and other oil spill cleanup equipment. These tanks can be built with higher sides for increased containment of liquids or larger materials.