Pillow Tanks for Temporary Water Storage
Flexible Tank Water Storage
Question: I am using a 10,000 gallon pillow tank but require some additional information. I am looking for some kind of collapsible tank that I can use to hold swimming pool water while my pool is being worked on. Can I store this type of water in one of these tanks? Can it be reused?
Answer: The Collapsible Bladder Tank (often referred to as a pillow tank or bladder tank) has been successfully used for the type of water storage you have mentioned. Fabrics for these tanks are chosen based on the type of liquid you are intending store, meaning tanks can easily be built from a fabric compatible with the liquids and materials inside your pool.
Our friendly staff is here to help you get the exact product you need!.

or Contact us for additional information.
Pillow Tank Advantages
Pillow tanks are made from rugged top grade materials, including materials fully equipped to handle long-term storage, short-term storage, or multiple uses. After a tank has been emptied back into your pool, the tank can be folded and placed into storage until needed for another project.
Typical advantages found when using a pillow tank include some of the following:
Folds or Rolls when Empty
Multiple Fabric Options
Easy to Reuse
Economical Bulk Water Storage
Low Shipping and Transportation Costs
Capacities Available up to 210,000 gallons
Easy to Hookup and Install on Location
Lies Flat and Takes up Limited Space
Can Fit in Low-Profile Areas
Hose Fittings Built into the Tank
Once you have used the 10,000 gallon pillow tank for your pool, there are several options you could consider for reuse. Typically, a pool pillow tank will be constructed with a nonpotable water fabric. Options for reuse may include storage of liquid including:
Rainwater (for utilities such as sprinklers, washing machines, etc.)
Gray Water Storage (non-drinking water applications)
Additional Options for Collapsible Tanks
Collapsible tanks have also been used in drinking water applications, rainwater collection, and even fuel storage requirements.
However, if you do intend to store something specific inside this tank (particularly drinking water, fuel or a food-grade material), you will want to make sure its noted before the tank is purchased. This will help ensure your material is capable of being stored within the unit.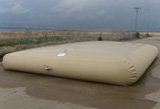 Additional uses for these tanks have included but are not limited to:
Drinking Water Storage
Rainwater Collection
Gray Water Storage
Fuel Storage (diesel, jet A, hydrocarbons)
View all Collapsible Storage Tanks
Questions? We can help! Call our team at 1-863-270-8118 or fill out our quote request form to discuss your requirements.