20,000 Gallon Collapsible Pillow Tanks
Collapsible Tanks for Project
Question: I need several 20,000 gallon collapsible tanks for a project I am working on. I require 3 or 4 tanks that can store gray water and 2 or 3 tanks that can store fuel. I will be using these tanks for various projects and storage requirements. Are these tanks multi-purpose? How easy are these tanks to set up and move around? How will they arrive at my site?

Answer: Thank you for contacting us! The collapsible tank is an excellent choice for various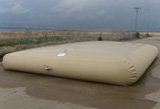 types of liquids. These tanks have been used to store several different liquid materials including the following:
Drinking Water

Gray Water including frac fluids, process water, production water, and various other black or gray water applications

Fuel including Diesel Fuel
Our friendly staff is here to help you get the exact product you need!.

or Contact us for additional information.
In general, most Storage Tanks are designed with a fabric specifically compatible with a single liquid it is attempting to store. For instance, the fabrics used on our drinking water have an additional coating to make them FDA and NSF 61 approved, while our fuel tanks use tougher fabrics to meet the demands of fuel storage.
Depending on your specific requirements, we may be able to quote you on a tank fabric equipped to handle both fuels and gray water. If this type of material is not available, we can also quote you separate tank fabrics, one for gray water options and one for diesel fuel.
Setup and Arrival
One of the best advantages of these pillow tanks is their ability to be easily moved and installed on your location. When they arrive to your location, tanks will either be folded up and placed in boxes or rolled up and shipped to your locations. Shipping can change based on site specific requirements.
Once it arrives at your site, tanks only need be unfolded then quickly setup on your location.
Learn More about 20,000 gallon collapsible tanks for gray water.
Questions? We can help! Call our team at 1-863-270-8118 or fill out our quote request form to discuss your requirements.