Collapsible Pillow Tank for Diesel Fuel
Diesel Fuel Pillow Tanks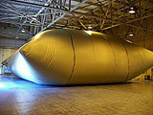 Question: Hello, I am looking for a diesel fuel collapsible tank that I can use for above ground diesel fuel storage. I need the capacity to be around 400 m³. Would you have a tank suitable for this application? What would be the material or fittings I could find on this type of tank?
Answer: For storing diesel fuel, Fuel Bladder Tanks can be an excellent choice. These tanks are designed in both large and small storage capacities and can be made from several different fabrics depending on your specific storage requirements. Since you are requiring a tank with a capacity of approximately 100,000 gallons, you would probably be best equipped to find this type of sizing on our Large Capacity Storage Tank page.

Typical Large Capacity Tank Materials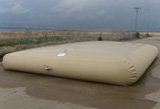 Due to the large weight of these storage tanks, they are typically constructed from thicker fabrics, such as 30 oz. or 33 oz. materials. This type of fabric is better equipped to handle the amount of
weight that will be placed within the tank during the storage of larger volumes.
In general, flexible fuel tanks are made with materials that are equipped to handle the nature of fuel. This can include fabrics, such as polyurethane and urethane, that are high in strength and well equipped to handle the hazardous nature of these materials. For a 100,000 gallon collapsible fuel tank, the dimensions would typically be somewhere around 52 feet in length, 53 feet in width, and 5 feet in height.
Typical Tank Fittings
Tank fittings for these units can vary depending on the specific requirements of your job or location. The standard fittings you might find on this type of tank include:
3/4" through 2"
Ball Valves, Caps, and Pressure Relief Vents
Camlock, Storz, or Threaded Fittings
Additional Fitting Options:

Emergency Plugs
Ports
Pressure Relief Valves
Repair Kits
If there are specific fittings you require, please feel free to let us know. Tanks can be adapted to meet specific fitting requirements, hookups, or needs.
Learn More about the diesel fuel collapsible tank.