20,000 Gallon Water Tank
Large Capacity Pillow Tanks
Question: Hi, I am looking for a 20,000 gallon pillow water tank. I will be using this tank to store irrigation water. Do you have a tank this large? Would there be any way to add extra protection around the tank?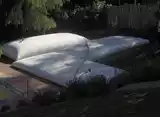 Answer: The Collapsible Pillow Tank for non-potable water is available in a 20,000 gallon model and has been designed to successfully store various types of grey water. In general, the first way you could choose to further protect your tank is by using a thicker fabric material. Thicker fabrics are listed under the industrial grade headline and typically feature a 33 ounce material. This can help to increase the storage life of your liquids.

20,000 gallon Water Tank Fabric and Dimensions
Each pillow or collapsible tank on this site is typically offered in either a medium-grade, commercial or industrial fabric. These names usually correspond to the strength and contact time of an individual tank material. For grey or non-potable water (such as irrigation water), the fabric options would be as follows:
Medium Grade: 22 oz. material, Up to 1 year contact time
Commercial Grade: 30 oz. material, 3 to 5 years contact time
Industrial Grade: 33 oz. material, Up to 7 years contact time
The contact time of a tank is typically described as the point in time in which the fabric used for your tank may start to change based on weathering and storage. They do not indicate the lifespan or longevity of your tank.
Depending on the type of fabric you choose for these tank, filled sizing will be anywhere from 32 to 34 feet in length, 24 to 25 feet in width, and 3.3 to 3.5 feet in height.

Additional Protection
Depending on what you are trying to protect your tank from, different options may work better than others.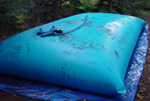 The standard form of Secondary Containment we offer for a collapsible tank can include either a ground cloth/liner or spill berm.
Ground Cloth/Liner: The ground cloth typically features a vinyl or PVC material and is designed to add extra protection around your tank during storage. A ground cloth is typically used to add increased abrasion resistance for your tank or to help protect and smooth out a ground location.
Secondary Containment Berm: A secondary containment berm may also be used for the 20,000 gallon pillow water tank to help protect its exterior. Spill berms help to protect the tank by forming a solid barrier around your entire tank. This has been used to help contain spills or leaks, as well as protect the tank from surrounding elements.
Questions? We can help! Call our team at 1-863-261-8388 or fill out our quote request form to discuss your requirements.