Low Profile Water Tank Under Deck
Under Deck Pillow Tanks
Question: Hello, I am interested in a pillow tank to be installed under a deck. I am looking for a pillow tank to use with a sprinkler system. I have an area under my deck where I can install it, but the available height would be only about 5 feet. I would like to store at least 2,000 gallons. Is this something you think might be possible?
Answer: For use with a sprinkler system, the Gray Water Bladder is an excellent choice. These tanks are often used
for non-potable water storage such as supplying rainwater or gray water to utilities and other water systems. In addition to your height, size for this tank will depend greatly on your available width and length under your deck.
Low Profiles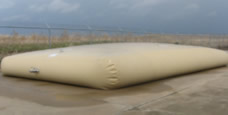 Regardless of size, all collapsible tanks are typically designed to have a low profile setup that allows for bulk water storage in height-restricted areas. When filled, tanks may have heights as small as 3.5 feet despite the tank capacity being as much as
50,000 gallons.
Among our listed capacities is a 2,100 gallon tank. The standard dimensions for this size would be either:
12 ft. L x 11 ft. W x 2.1 ft. H
13 ft. L x 10 ft. W x 2.1 ft. H
Again, depending on the available width and length of your deck, this may be able to meet your storage capacity. If your deck area is slightly smaller than this, please feel free to send us your specific dimensions. These pillow tanks are highly flexible and may be able to be adjusted so that the height increased while the lengths and widths are decreased.
Collapsible Tank Fittings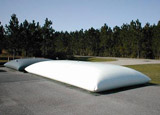 For connection to your sprinkler system, tanks are available with several different fittings to meet unique storage or fitting requirements. Typical fittings for these tanks include:
Ball Valves
Caps
Pressure Relief Vents
Cam lock, Storz, or Threaded Adapters for Hose
Learn More about pillow tank under deck.