Tank for Storing Recovered Oil
Collapsible Oil Recovery Tanks
Question: Hello, I am looking for a collapsible oil recovery tank, 20,000 liters in size. I want to use this tank to temporarily store oil being recovered during a spill cleanup. Would a collapsible tank work for this purpose?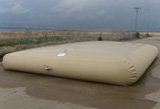 Answer: A collapsible pillow tank can be used for the temporary containment for some hydrocarbons. When used for this type of storage, tanks will usually be built with a thick, reliable fuel-grade material. These materials are equipped to handle diesel fuel, Jet A fuel, and oil.
For 20,000 liters (5,000 gallons) of available storage, standard tanks will feature the following dimensions:
10' in Length
9' in Width
2' in Height
If you are looking for a tank with different dimensions or a different storage capacity, please don't hesitate to ask. Tanks are made in capacities as large as 250,000 gallons and can be built to accommodate site specific dimensions.
Questions? We can help! Call our team at 1-863-261-8388 or fill out our quote request form to discuss your requirements.
Material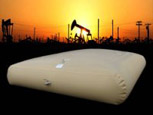 The material that will most commonly be used for this type of tank includes a fuel compatible material that can handle diesel fuel, Jet A, and/or oil. To help match the liquid storage to your compatible material, an MSDS may be required. Typical fabrics used for this type of construction include polyurethane, urethane, and occasionally rubber.
In general, the collapsible tank is manufactured using one of three different materials, including a medium grade, commercial grade, or industrial grade fabric. These terms are used to refer to the thickness of the fabric and the contact time. Thicker fabrics will have an extended contact time and are used for long-term storage, large capacity storage, or areas with demanding outdoor conditions.

Fittings
For easy filling and/or draining of your collapsible oil recovery tank, various fittings can be added to accommodate your fill hose, drain, pump, or other equipment requirements. The standard fittings found on these tanks include:
3/4" through 2" Fittings
Ball Valves
Pressure Relief Vents
Caps
In addition to these standard fitting options, we also offer several optional fittings including the following:
4" through 6" Fittings
Pressure Relief Valves
Drain Ports (can be ideal for a collapsible oil recover tank as it helps to easily drain and clean out the tank)
For the recovering oil, another secondary containment option includes the self-rising collapsible onion tank. This tank features an open top that provides an easy way for tanks to be filled with liquids. View Secondary Containment Tanks.