Portable Water Tanks
Portable Collapsible Water Tanks
Question: I am interested in knowing if you have a portable collapsible water tank. I have a requirement for transportation by hand of around 5 gallons of drinking water. We would need several bags as we are looking for each person to be able to move their own portable bag. Do you have anything like this?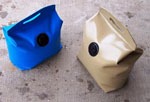 Answer: Thank you for contacting us! We do offer a Portable Water Bag that would allow you to successfully move small amounts of water by hand. These bags are typically built with an upper handle that allows customers to easily grab on and carry the bag to needed locations. However, if you require a different style, please do not hesitate to ask. We often do custom bag designs and have built portable tanks such as backpack tanks and side shoulder tanks for easy transportation.

Water Bag Typical Design
The typical design of the water bag will include a fill with cap and easy grip handle. As with all of our collapsible tanks, these bags are designed to lie completely flat when empty. This allows for folding or rolling of the bag for easy transportation. Components of these bags include the following:
FDA & NSF 61 Approved Fabrics for Drinking Water
Built-in Handles for Easy Movement
1, 2.5, 3.5 and 5 gallon Capacities Available
Fill and Cap
These portable water bags do feature a minimum order requirement depending on the size of the bag. Minimum order requirements include:
Minimum order of 15 for 1 gallon bags
Minimum order of 10 for 2.5 gallon bags
Minimum order of 10 for 3.5 gallon bags
Minimum order of 10 for 5 gallon bags
Please do not hesitate to contact us for additional information regarding these portable collapsible water tanks and how they can be used for various transportation applications.
Standard Collapsible Tanks
While our standard collapsible tanks are not able to be transported when full, all flexible tanks are equipped for transportation when empty. One of the best advantages of these collapsible water tanks is their lay-flat design when the tank is empty. Often resembling an empty pillow case, these tanks are able to be quickly folded or rolled up and moved to needed locations.