Collapsible Frame Tank
Folding Frame Water Storage Tank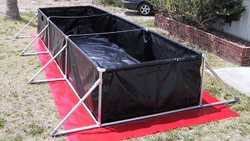 Question: I am looking for a folding frame tank I can use for emergency water storage. I saw at the bottom of the page that these tanks have been used by firefighters, but I did not see how big these
tanks could be. What are the sizing requirements for this tank? How have
firefighters used this tank?
Answer: The Frame Water Tank is a favorite for firefighters and customers looking for easy emergency water storage. One of the best advantages in using these tanks
is their ability to be made in multiple storage capacities. Tanks have been made as large as 5,000 gallons to store water for fire relief efforts or emergency storage.
Questions? We can help! Call our team at 1-863-261-8388 or fill out our quote request form to discuss your requirements.
Standard Specifications for the Frame Tank
Capacities: 500 to 5,000 gallons
Frame Options: Steel or Aluminum Frames
Single Folded or Double Folded Options
Fittings: Standard is cam lock or storz
Tank Material: Typically heavy-duty vinyl liner, but can be made from different fabrics if specified by your site specifications.

Standard Tanks feature 22 oz. on the side and 28 oz. on the floor
Interior Liner can be NSF 61 approved
Use by Firefighters
The frame tank has been used frequently as a water dump tank for firefighters in remote areas or woods. This portable water tank allows water trucks to dump their water supply into the frame tank, then return to get more water. While the truck is retrieving additional water supplies, firefighting efforts can continue in the remote area.
Folding frame tanks are extremely flexible and have been known to have the following qualities:
Folds up for Transportation
Fast Setup Times
Double or Single Folded
Easy Connection to Hoses
Multi-Purpose Use
Custom Design Options Available
In addition to its use in firefighting relief efforts, the frame water tank may also be used for rainwater collection, water storage, and more. Some common uses will include:
Emergency Water Storage in Relief Efforts
HAZMAT or Oil Spill Cleanup Efforts
Aquaculture Farming
Secondary Containment for Tanks