Drive Through Spill Containment Berms are equipped to help with multiple drive through applications that require vehicles and/or machinery be moved on and off the berm. Typical construction of these berms will include foam wall ends and aluminum angle side walls. This provides quick access on and off the berm, while still offering on increased wall height.

Liner Material
Width
Length
Height
Capacity
Additional Documents

LLDPE
Reinforced PVC
XR-5/Elvaloy
Polyurethane

10' (3 m)
10' (3 m)
1' (0.305 m)
748 gal. (2,831 L)

Drive Through Berms Product Flyer
(pdf)
12' (3.7 m)
12' (3.7 m)
1' (0.305 m)
1,077 gal. (4,077 L)
12' (3.7 m)
26' (7.9 m)
1' (0.305 m)
2,334 gal. (8,835 L)
12' (3.7 m)
50' (15.2 m)
1' (0.305 m)
3,232 gal. (12,234 L)
Drive Through Berms Instructions
(pdf)
14' (4.3 m)
54' (16.5 m)
1' (0.305 m)
4,488 gal. (16,989 L)
14' (4.27 m)
54' (16.46 m)
1' (0.305 m)
5,655 gal. (21,406 L)
15' (4.57 m)
50' (15.24 m)
1' (0.305 m)
5,610 gal. (21,236 L)
15' (4.57 m)
66' (20.12 m)
1' (0.305 m)
7,406 gal. (28,035 L)
Larger, smaller and custom sizing is always available, so please do not hesitate to ask for a size that will better fit your storage requirements. Foam walls can be increased in height to 8", while aluminum angles can be built higher if needed.
Liner Compatibility
All of our containment berm models are built with a berm liner material made out of either PVC, LLDPE, XR-5, Elvaloy, or Polyurethane. These fabrics are designed to offer a high resistance to several different liquids including the following:
Frac Fluids
Hydrocarbons
Fuel
Water Types
Oil
Berm liners are designed to offer compatibility for short periods of time (typically during a spill or leak). If you are looking for something that can contain liquids for significantly longer periods of time, please check with our sales team to ensure that the fabric offered is equipped for long term storage.
Questions? We can help! Call our team at +1-772-646-0597 or fill out our quote request form to discuss your requirements.
See How Spill Containment Berms have been Used: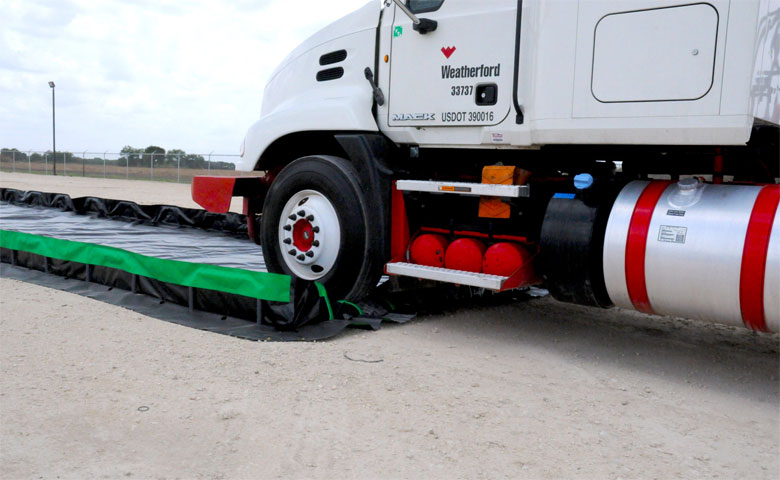 Vehicle Containment: Containment under vehicles is often a must for trucks, tankers, and other vehicles that are storing potentially harmful liquids. This can include anything from fuel tankers to water transportation vehicles.
Frac Tank Containment: A favorite application where these berms have been used is during frac tank containment. Foam walled berms allow frac tanks to quickly move on and off the berm as they are needed around the site.

Drive through berms can be used in any application that allows for items to rolled or moved right onto the berm. Items can include anything from cars to larger tankers. In addition, we also offer several other berms. Check our our Spill Containment Berms to view our complete containment variety.

Interested in Storage for Drinking Water, Gray Water, or Fuel? Check out our Collapsible Pillow Tanks.