Current Page
---
5000 gallon Water Tank
Question: I am looking for a 5000 gallon pillow tank that can be safely used to store potable water. I am mostly concerned about the size of the tank. My location does not have very large spacing in terms of height, maybe 3 feet. Is it possible to have a tank this large that is still able to fit in this type of height restricted space? What kind of spacing would I require?
Answer: A great option for height restricted locations is a Collapsible Water Tank. These tanks are specifically designed for low profile bulk storage and have been known to store has much as 9000 gallons in a single tank, while still only requiring a height of three feet.
Questions? We can help! Call our team at +1-772-646-0597 or fill out our quote request form to discuss your requirements.
5000 gallon Water Tank Model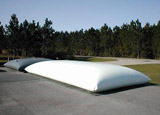 The 5000 gallon pillow tank is an economical storage unit that has been frequently implemented in the storage of drinking water and other water storage materials. These units are available in a standard size that would remain below three feet (3'). Sizing would be as follows:
Lengths: 16, 17, or 18 feet
Widths: 16 or 17 feet
Height: 2.5 feet
The sizing for your unit will tend to vary depending on the specific fabric used on the tank. As the fabrics increase in thickness, their widths and lengths may vary slightly to accommodate the fabric. All sizing options can be found on the Collapsible Water Tanks Specification Page.

Material Options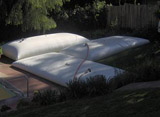 Material or fabric options for these tanks come in many options, with the standard materials choices being as follows:
Medium Grade: 22 oz. Material

This is typically used for short term water storage or storage in non-demanding locations.

Commercial Grade: 30 oz. Material

This pillow tank material is a medium term fabric and is commonly used for standard water storage.

Industrial Grade: 33 oz. Material

This is the strongest material option and is used for demanding conditions or long term storage. Thicker fabrics are also used for large capacity tanks to help support the weight of the amount of liquid you are storing.
If you will be using this 5000 gallon pillow tank for drinking water storage, your tank will also include a liner material that is equipped to handle drinking water. This will include a fabric that is FDA and NSF 61 approved.
Questions? We can help! Call our team at +1-772-646-0597 or fill out our quote request form to discuss your requirements.
---